Are you ready to take your child's spiritual journey to the next level this summer?
Christian summer camps in Alabama offer activities and experiences to help young people grow in their faith.
From outdoor activities to Bible study and worship, these camps provide opportunities to explore, learn, and grow in a safe and encouraging environment.
So, if you're looking to give your child a faith-filled summer experience, read on to learn more about the benefits and types of activities offered at church camps in Alabama.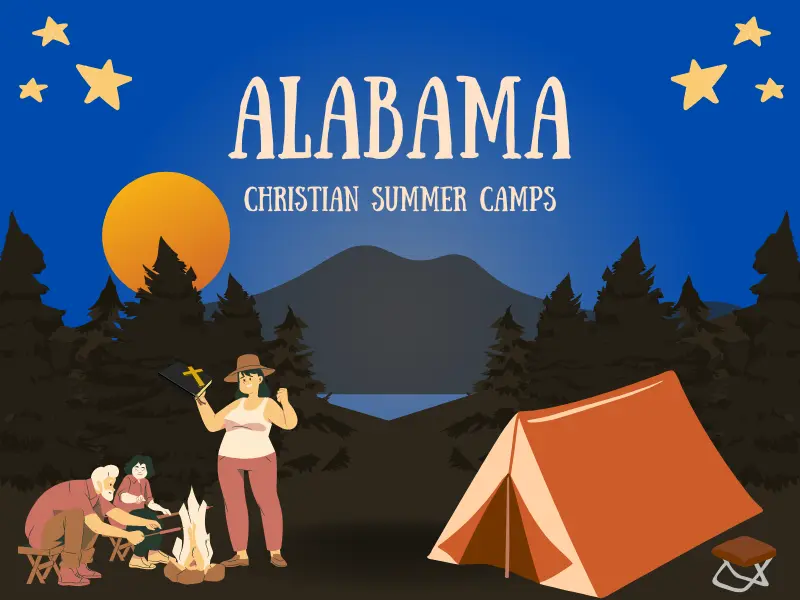 Types of Activities Available
Alabama delivers a variety of activities that campers can participate in. From sports and adventure activities to outdoor exploration and craft projects, church camps in Alabama provide a wide range of activities to choose from.
Overnight camps in Alabama provide campers with opportunities to learn, grow, and have fun.
Campers can enjoy swimming, fishing, canoeing, and playing team sports. They can also participate in worship services, Bible studies, and devotionals.
Additionally, campers can take part in arts and crafts, plays and skits, dance, and music activities.
There are also opportunities for campers to explore the outdoors through hikes, camping trips, and nature activities.
All of these activities are designed to not only provide joy but also to increase campers' faith and character.
There are many retreat centers in Alabama that will help you:
Develop Intellectually:
Learn about God's word
Expand your knowledge of the world around you
Enhance skills in problem-solving
Grow Spiritually:
Develop a deeper relationship with God
Participate in Bible studies
Connect with other believers
Choosing the Right Camp for Your Child
Finding the right camp for your child can be a challenging task, but it is important to choose one that will meet their spiritual and developmental needs.
If you're looking for a Christian camp in Alabama, there are several excellent options available. Find the perfect place from our extensive list below.
757 County Road 614 Mentone, AL
3886 Mountain View Road, Odenville, AL
264 Wiregrass Road Chancellor, AL
1314 Shocco Springs Rd, Talladega, AL
2944 Co Rd 113, Lineville, AL
1018 Co Rd 734, Mentone, AL
271 Baptist Camp Rd, Guntersville, AL
768 Camp Ney a Ti Rd, Guntersville, AL
1200 Worldsong Rd, Cook Springs, AL
Maywood Christian Camp ↗
700 Maywood Camp Rd, Hamilton, AL
Camp Baldwin↗
8749 Baptist Camp Road, Elberta, AL
Choosing the right camp is essential; do your research and find one that's the perfect fit.
It'll be a summer to remember, a time for your child to grow spiritually, make lasting memories, and forge relationships that will last a lifetime.
So don't delay – send them off to camp today and let the adventure begin!