Imagine a place where the blue sky stretches out as far as the eye can see and the rolling hills of the Appalachians beckon you to explore.
This is Springville Camp nested in the heart of Alabama's breathtaking mountains, where events and accommodations can provide you with the freedom and relaxation you desire.
With a large chapel, conference rooms, and hotel-style lodges and cabins, this scenic retreat has something for everyone.
Camp Information
Type: Overnight
Website: springvillecamp.com
Address: 3886 Mountain View Road, Odenville, Alabama 35120
Phone: (205) 629-6279
Email: office@springvillecamp.com
---
Activities: Swimming pool, lake activities (blob, Wet Willie 100′, water slide, floating trampoline, water zipline, canoes, funyaks, paddleboards, paddleboats), giant swing, outdoor climbing tower, basketball, volleyball, baseball, softball, soccer, ping-pong, etc.
Facilities: Conference rooms, dining hall, recreation hall, large venues, dormitory-type cabins, lodges, retreat house, Chapel, amphitheater, firepit swings, pavillion, Gazebo
Nearby attractions: Alabama Museum and Archives, the Ridge Adventure Park, Birmingham Civil Rights Institute and Botanical Gardens.
Springville Camp Overview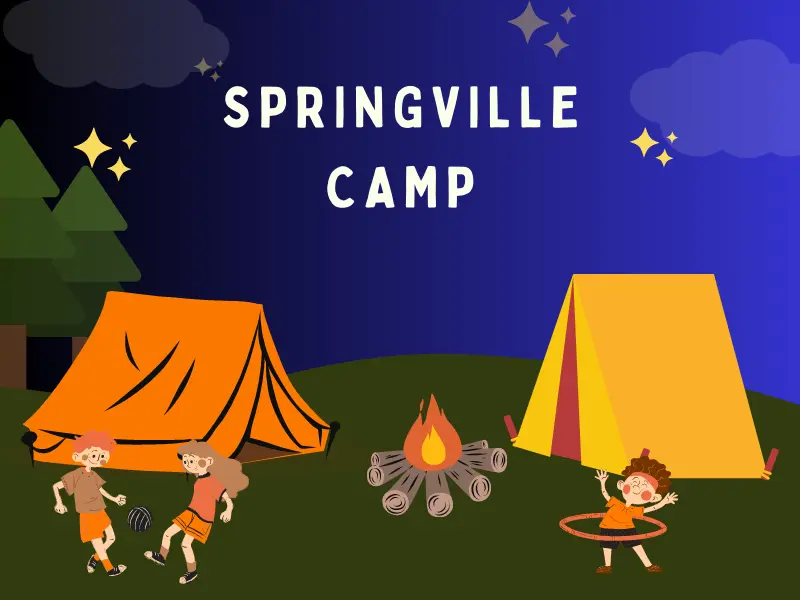 Whether you're planning a religious gathering, a large event, or a workshop, you'll find the perfect facilities for your needs at this scenic retreat.
The Chapel offers a full sound system and projector, ideal for large gatherings of up to 750 people.
For smaller events of 20-80 people, there are six conference rooms with necessary amenities.
Enjoy a comfortable stay in the hotel-style lodges, with private bathrooms, climate control, and bunk beds.
Or, go for a more communal experience in the cabins, which can hold up to 30 people in rustic and cozy bunk beds. Enjoy unforgettable events and accommodations here.
Conference Rooms
Take advantage of our six conference rooms, perfect for smaller groups of 20-80 people. Our conference rooms provide a conducive atmosphere for meetings, workshops, and seminars.
With necessary amenities like projectors and sound systems, you can make your presentations come alive.
Our rooms are designed to give you the freedom to express yourself, and create an unforgettable experience. You'll find comfortable chairs and tables, and plenty of space to move around.
Our conference rooms offer a unique opportunity to inspire and be inspired. Take the time to explore and discover what wonders await you at our scenic retreat.
Lodges and Cabins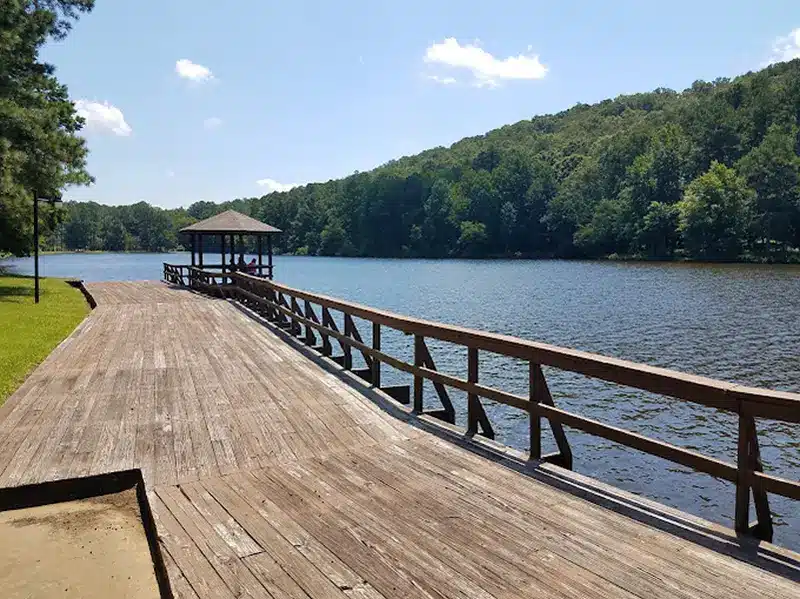 Choose our lodges or cabins for comfortable and convenient accommodations during your stay.
Our lodges provide hotel-style rooms with private bathrooms, climate control, and the option of additional bunk beds. You'll have your own entrance and can rest assured that you'll have all the comfort desired.
Our cabins are perfect for groups of up to 30 guests with four rooms, bathrooms with multiple stalls, sinks, and showers, and a communal living experience.
Enjoy the rustic and cozy atmosphere of these cabins during your stay. Get away from it all and enjoy a scenic retreat with unforgettable events and accommodations.
Zipline
Experience the thrill of soaring over the lake on our 1000-foot zipline! Springville Camp and Conference Center offers an exciting outdoor activity that will give you a rush of adrenaline as you zip across the lake.
This zipline is one of the longest in Alabama, and you'll get an amazing view of the scenery as you're flying through the air. You'll experience a sense of freedom as you move through the air and take in the beauty of the area
Giant Swing
Take a ride on our giant swing and get your adrenaline pumping as you drop from the sky!
Riders can experience a quick rush of adrenaline before slowly gliding through the air like a bird.
Enjoy the stunning scenery of the Appalachian foothills while getting your heart racing. It's the perfect way to take advantage of the freedom that Springville camp has to offer.
Climbing Tower
Test your courage by ringing the bell at the top of the 30-foot climbing tower!
Conquer your fear of heights by climbing the tower
Challenge yourself to reach the top of the tower
Enjoy the scenic view of the Appalachian foothills from the top
Experience a sense of accomplishment when you ring the bell
Feel the thrill of adventure with friends and family
Basically every detail in Springville Camp has been thoughtfully prepared to ensure that your event is truly unforgettable.
Also, read our reviews for other beautiful camps in Alabama state, such as Riverview which is for girls only.