Christian summer camps are a great way to introduce your kids to the joys of organized religion.
The purpose of them is to help build a closer relationship with God, themselves, and each other.
You'll get to know each other better, learn about yourself, and most importantly, have fun!
They provide a safe place to enjoy the outdoors, make new friends, sing songs, and learn about the bible.
Many types of these camps are available—some focus more on sports or dance, while others are more educational.
You can find out which type is the right choice for your child by contacting the camp directly or searching online for reviews from past attendees.
Some of my favorite things about summer church camps include the following:
A lot of fun activities like rock climbing and archery
Campfires, where you can sing songs and roast marshmallows
Arts and crafts
A place where you can swim in the lake or just lay out on the sand
What Does the Bible Say About Camping?
The Bible has a lot to say about camping, and it's not always what you'd expect.
While we don't have any stories of Jesus camping out anywhere, we do know that he spent quite a bit of time outdoors during his life (he spent most of his ministry outdoors preaching).
Numbers 10:31

And he said, Leave us not, I pray thee; forasmuch as thou knowest how we are to encamp in the wilderness, and thou mayest be to us instead of eyes.
How Many Christian Camps Are in the US?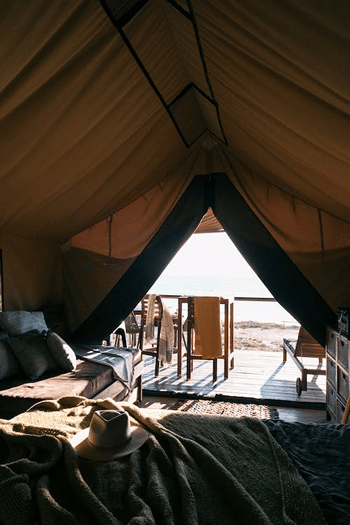 These camps can be found everywhere, from the shore of Lake Michigan to the forests of North Carolina, and they are constantly being founded and growing.
And they're all as different as the people who go to them.
However, there are way over 2,000 Christian camps across the country.
Some are open to everyone and have Christian-themed activities.
But, if you're looking for camps that are specifically affiliated with a church or religious organization, then there are many more as stated above.
Best Christian Summer Camps in the USA
Summer camps are a great way to get kids out of the house and into the woods.
But, what if you want your kid to spend their summer days exploring nature in ways that are also spiritually enriching? Well, look no further.
Here's a list of the best ones in the US:
Texas:
Camp Cho-Yeh
Olympia Mission
T Bar M
California:
Rock-N-Water
Mount Hermon: Kidder Creek
Jenness Park
Yosemite Sierra
Michigan:
Michigan Christian Youth Camp
Bair Lake Bible Camp
Lake Ann Camp and Retreat Center
Oklahoma:
Falls Creek
Rock Creek Youth Camp
Shepherd's Fold Ranch
Florida:
Camp Kulaqua
Lake Aurora
Realife Blue Springs/Camp Anderson
Gilead Cbm Ministries Inc
North Carolina:
Merriwood
Willow Run
Oak Hill
Roanoke
South Mountain
Georgia:
Strong Rock
Woodland
Evergreen
Colorado:
Beaver Creek
Bear Trap Ranch
Machasay
High Peak Camp
Virginia:
Camp Piankatank
Hanover
Williamsburg Christian Retreat
Camp Eagle
Missouri:
High hill
James River
Heartland
YMCA Camp Lakewood
Tennessee:
Appalachian
Smoky Mountain
Hillmont Christian Camp & Retreat
Higher Ground
Indiana:
Impact 2818
Hilltop
Lake James
Wonder Valley
New York:
Sky Lake
Camp Pinnacle
Camp Cherith
Overnight Christian Summer Camps
Overnight Christian camps are great because they provide you with an opportunity to experience the outdoors and get away from the hustle and bustle of everyday life.
At these camps, you'll have fun activities that will challenge your mind, body, and spirit. You'll get the best of both worlds: an active day and a restful night.
The advantages of overnight church summer camps are many:
– Help develop a strong sense of self, which will help them be successful in their future endeavors.
– They help your child grow closer to God and their fellow campers
– They teach kids how to work together as a team
Do You Know What is the Largest Christian Camp in the World?
The largest Christian camp in the world is Falls Creek (Oklahoma). The summer program is divided into eight-week sessions with different options.
It can accommodate over 5.000 campers at once each week.
During these sessions, campers can participate in a wide range of activities including swimming, archery, horseback riding, hiking, and more.