If you're looking for a fun and meaningful way to spend your summer, church camps in Arkansas may be just what you need.
With a variety of options available, you can find a camp that fits your interests and beliefs.
Some camps even offer specialized programs for different age groups, such as elementary school, middle school, high school, and college students.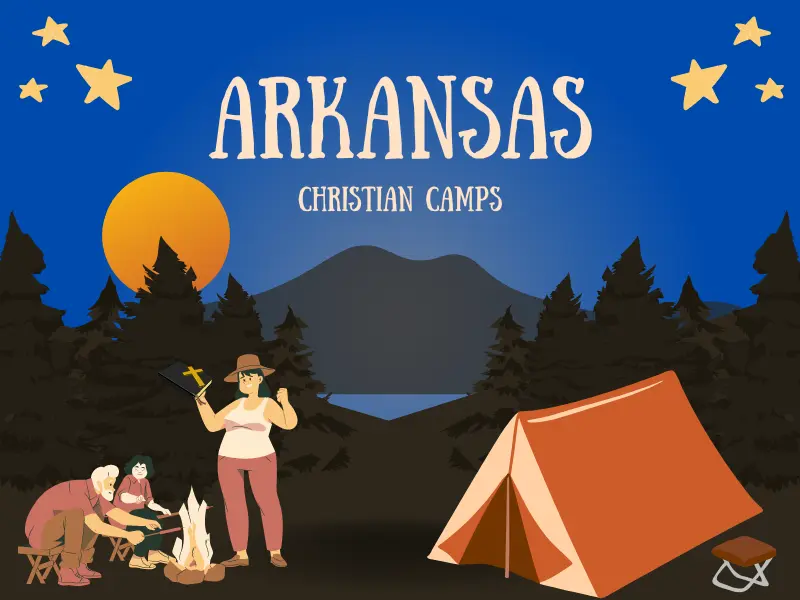 So, no matter your age or background, there's a place that can meet your needs.
Popular Church Camps in Arkansas
Arkansas is home to many places that offer a variety of activities and programs for all ages.
Here are some of the most popular Christian Camps in Arkansas:
Shepherd of the Ozarks ↗
1343 Shepherd Ln, Harriet, AR 72639
Rock Haven Bible Camp↗
Rock Haven Rd, Hasty, AR 72640
Timber Oaks Retreat↗
2343 Barrens Community Rd, Clinton, AR 72031
Camp Paron↗
16330 Baptist Camp Rd, Paron, AR 72122
Triple S Christian Ranch ↗
165 Christian Ranch Rd, Rose Bud, AR 72137
Camp Wyldewood Summer Camp↗
155 Riverside Park Rd, Searcy, AR 72143
Bogg Springs Baptist Camp↗
784 AR-84, Wickes, AR 71973
Ponca Bible Camp ↗
4699 AR-43, Ponca, AR 72670
Green Valley Bible Camp↗
3100 Monte NE Rd, Rogers, AR 72758
Benefits of Attending Arkansas Christian Camps
Here are some of the main benefits you can expect from attending one of these gatherings:
Faith Strengthening
One of the primary benefits of attending an Arkansas Christian camp is the opportunity to deepen your faith.
You will have the chance to learn from experienced Christian leaders, engage in meaningful worship and prayer, and participate in Bible reading and other faith-based activities.
By immersing yourself in this environment, you can gain a greater understanding of God's love and purpose for your life.
Personal Development
In addition to strengthening your faith, these types of camps can also help you develop important life skills.
For example, you may learn how to communicate more effectively, manage your time more efficiently, and solve problems more creatively.
These skills can be valuable in all areas of your life, from school and work to personal relationships and beyond.
Social Skills Enhancement
Finally, attending Christian summer camps in Arkansas can be a great way to improve your social skills.
You will have the opportunity to meet new people from different backgrounds and make new friends.
You may also participate in team-building activities and other group exercises that can help you develop better communication, leadership, and collaboration skills.
Types of Christian Camps in Arkansas
There are several types of Christian camps to choose from, depending on your interests and needs.
Overnight
Overnight campsites are a great way to get away from the busyness of daily life and focus on your spiritual growth.
They typically offer accommodations, meals, and a multitude of hobbies. Some of them include Camp Siloam in Siloam Springs and Shepherd of the Ozarks in Harriet.
Family Camps
If you're looking for a way to bond with your family while also growing in your faith, a family campsite in Arkansas might be a great option.
Swimming, hiking, and games, as well as family-oriented worship services and Bible analyses, are often included.
Summer Camps
Summer Christian camps in Arkansas are a great opportunity for kids and teens to engage in meaningful activities and experiences.
From crafting, sports, and outdoor adventures, to Bible studies and worship services, you will have an unforgettable experience that will shape your faith and build lasting friendships.
Retreat Centers
If you're looking for a more focused and intentional time of spiritual growth, Christian retreat centers might be the right choice for you.
These centers often provide a peaceful and secluded environment for personal reflection, prayer, and more.
No matter the type of place you choose, you can be assured of a community of believers who are passionate about deepening their faith and supporting each other.
Activities at Christian Summer Camps in Arkansas
You can expect to enjoy a range of activities like Bible study, worship, group games, outdoor recreation, and more.
There will also be special activities like campfire sing-alongs, scavenger hunts, talent shows, and themed parties.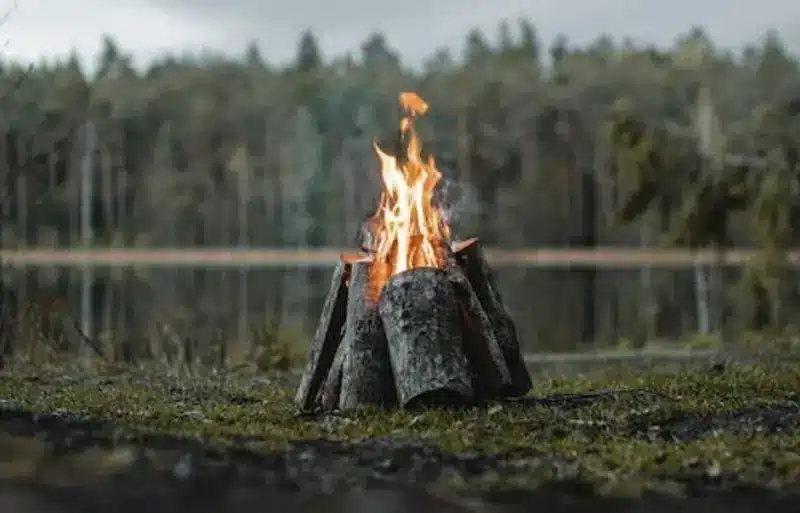 You may also have the chance to participate in mission trips, volunteer opportunities, and leadership development activities.
Most Christian summer camps in Arkansas also offer a variety of recreational activities like swimming, kayaking, zip-lining, and rock climbing.
Spiritual Growth
One of the primary goals of these sites is to help campers grow in their faith.
Here are some examples:
Bible Study: Most of them offer daily Bible study sessions.
These sessions are led by trained counselors and are designed to help campers understand and apply God's Word to their lives.
Worship: Often daily worship services are included.
Here, campers to come together and praise God through song, prayer, and other forms of worship.
Small Groups: Many also offer small group sessions. This allows campers to discuss their faith with others in a more intimate setting.
Outdoor Adventures
Campers can take advantage of the great outdoors and explore God's creation.
From hiking through the mountains to playing sports and having campfires, there is something for everyone.
Hiking is a popular activity, and Arkansas has some of the most beautiful trails in the country.
People can take in the sights and sounds of nature while forging strong friendships with other campers.
Swimming is another great activity, with many centers having their own pools or access to nearby lakes and rivers.
Sports such as basketball, soccer, and volleyball are also a great way to stay active and build teamwork skills.
And of course, what summer camp would be complete without a campfire? Campfires provide a time for campers to come together, share stories, and take in the beauty of the night sky.
How to Choose the Right Bible Camp
Choosing the right bible camp for your child can be troublesome, but there are a few essential points to contemplate when making your decision.
Financial aspects and affordability should be taken into account, as well as comprehending your child's requirements and any predefined conditions for attending the camp.
Arkansas has a broad selection of church camps to choose from, representing numerous different religious denominations, so it's crucial to take the time to research the camp and make sure it's the right fit for your child.
Cost and Affordability
When looking for church camps in Arkansas, cost and affordability should be taken into account.
Many churches are open to hosting and their rates may vary. Some may be free while others may charge for admission, meals, and activities.
It is important to research the church and see if discounts or scholarships are available.
Make sure to also look into the staff and volunteers and find out if they have experience leading religious activities.
Knowing the different denominations present at the camp can help you make an informed decision.
Ultimately, there are many options in Arkansas that offer a wide range of activities at different prices, so compare them before making a choice.
Understanding Child's Needs
When selecting a camp for your child, it's important to take into consideration their individual needs.
Arkansas church camps offer great opportunities for kids to connect with their faith, make new friends, and learn life skills.
Different denominations are catered to, from conservative to liberal, Catholic to non-denominational, so there is sure to be something that aligns with your family's beliefs.
There, children will be exposed to activities that strengthen their faith and develop their character.
Prayer and worship are incorporated throughout the day, as well as fun activities like arts and crafts, sports, and outdoor exploration that foster relationships and learning.
When selecting a camp for your child, be sure to pick one that is tailored to their individual needs.
Consider their age, level of religious knowledge, and maturity before making a final decision.
With the right camp, your child can have an amazing experience that will help shape their understanding of faith and help them grow in their relationship with God.
Requirements for Attending
Attending one often requires certain criteria to be met. This includes age and level of religious understanding.
You'll find a great selection of church camps in Arkansas.
These camps cater to various denominations such as Catholic, Protestant, independent, and non-denominational groups.
Regardless of your religious affiliation, you'll be able to find the one that meets your needs.
Most of them have specific requirements for attendees.
This usually includes being at least 8 years old and being able to participate in activities in a secure and respectful manner.
Some may also require registration fees or other forms of payment.
In addition to meeting the basic criteria, you should also inquire about the spiritual requirements of the campsite.
For instance, some might require a certain level of understanding of the Bible and other religious texts.
Others may require a commitment to a certain faith.
The camp staff wants to ensure that visitors are comfortable with the activities and the atmosphere of the camp.
Preparing for Church Camp
It's essential to plan in advance when getting ready for a trip.
Depending on the denomination represented, the campsite, and the activities offered, there are certain steps to take to make sure you have an enjoyable experience.
First, pack the proper clothes considering the weather and activities, as well as any recreational items you may want to bring.
Next, check with the organizers about any dietary restrictions and guidelines to ensure you have the right food options available.
If you're going to a religious camp, bring materials to help you nurture your faith such as a Bible, journal, or other religious books or materials.
Before leaving, talk to your family and friends at home and arrange a way to stay in touch while you're away.
Lastly, be ready to take part in activities, meet new people, and discover a new environment.