Are you looking for a fun and faith-filled way to spend your summer? Look no further than Arizona Christian camps!
These camps offer activities such as Bible study, outdoor recreation, worship, prayer, and spiritual growth. Many of them will also provide additional activities such as sports, arts and crafts, and mission trips.
Here's what you need to know about the different types of Christian camps, what to expect, the benefits, and tips for choosing the right one.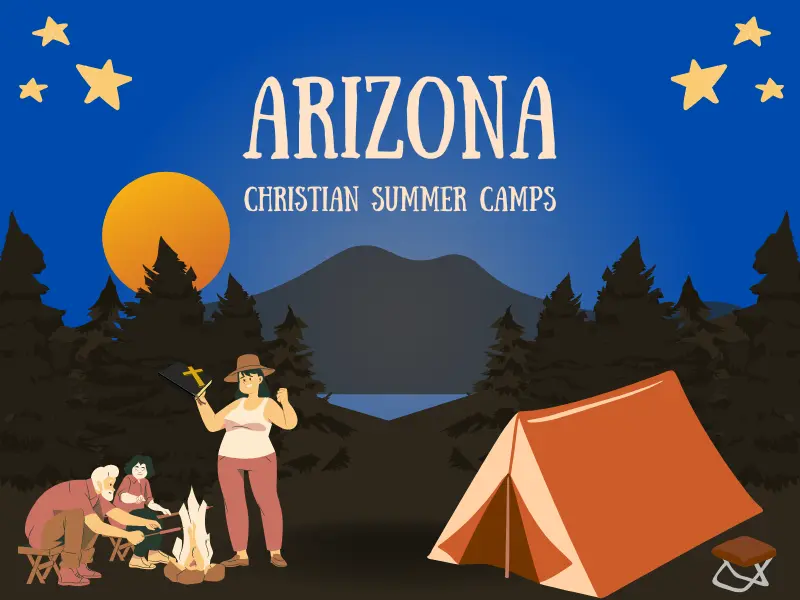 Top Christian Summer Camps in Arizona
Attending Christian camps in Arizona is an amazing experience that can have a lasting impact on your life. You'll make friends, learn new skills, and grow closer to God.
Here is a selection of some of the highest-rated Bible campsites in AZ, offering a variety of services to meet the needs of all campers.
Tonto Rim Christian Camp ↗
353 North Baptist Camp Rd Payson, AZ 85541
Prescott Pines Camp↗
855 E. School House Gulch Rd. Prescott, AZ 86303
United Christian Youth Camp ↗
1400 Paradise Valley Rd. Prescott, AZ 86303
Camp Pinerock↗
1400 Pine Dr. Prescott, AZ 86303
Arizona Brethren Church Camp ↗
67 Christian Rd. Patagonia, AZ 8562
Copper Basin Bible Camp ↗
3300 Copper Basin Rd, Prescott, AZ 86303
What to Expect at a Christian Summer Camp in Arizona
Attending a camp in Arizona can be a life-changing experience.
Not only do you get to enjoy the beautiful scenery and outdoor activities, but campers can also meet other like-minded individuals and create bonds that can last a lifetime.
With counselors available to provide guidance and support, campers are sure to leave with a sense of accomplishment and a better understanding of their faith.
Spiritual Growth
Away from the distractions of everyday life, you can focus on your relationship with God and deepen your faith.
Through daily devotions, worship services, and Bible studies, you can gain a better understanding of God's word and how it applies to your life.
Connect with other believers and share your experiences and struggles.
Character Development
Through team-building activities, leadership training, and service projects, you can learn important life skills such as responsibility, perseverance, and compassion.
You can also gain a better understanding of your strengths and weaknesses and how to use them to serve others.
Community Building
Through shared experiences and common goals, you can connect with others who share your values and beliefs.
Learn how to communicate effectively, resolve conflicts, and work together as a team.
Fun and Recreation
Christian camps in Arizona offer a wide range of fun and recreational activities.
From hiking and swimming to arts and crafts, there is something for everyone.
You can participate in games and competitions, talent shows, and other special events.
Types of Christian Camps in Arizona
There are three main types available: day-based, overnight, and family camps.
Overnight Camps
Overnight Christian camps provide campers with the opportunity to spend several days and nights away from home, experiencing all the fun and excitement of camp life.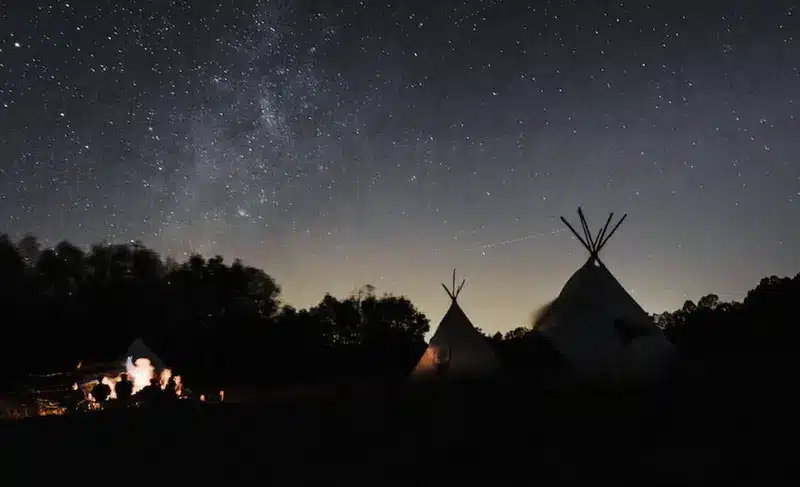 These camps typically offer a variety of activities, such as hiking, swimming, crafts, and team-building exercises.
Campers also have the opportunity to participate in Bible studies, worship services, and other spiritual activities.
Day Camps
They are a great option for families who want their children to experience the benefits of a Christian camp but don't want them to spend the night away from home.
Typically they run for a week or two and offer a range of activities, such as sports, arts and crafts.
Family Camps
Family camps are designed for families who want to spend time together while also experiencing the fun and fellowship of a bible camp.
Arizona offers a range of family campsite experiences depending on the interests of the family.
Choosing the Right Camp
Choosing the right Christian summer camp in Arizona can be an overwhelming task.
It's important to make sure the programs offered are suitable for your child's age and interests, while also ensuring the safety and security of the campers.
Understanding Your Child's Needs
Before you start researching camps, take some time to consider your child's interests, personality, and any special needs they may have.
Do they thrive in large groups or prefer smaller settings? Are they outgoing or more introverted? Do they have any physical or emotional needs that require special attention?
Understanding your child's needs will help you choose a camp that is the best fit for them.
Researching Camp Accreditation and Safety
It's important to choose one that is accredited by a reputable organization, such as the American Camp Association.
Accredited camps have met strict standards for safety, health, and program quality.
You should also research the camp's safety policies and procedures, including staff training, emergency protocols, and medical care.
Types of Activities Available
Christian camps in Arizona offer a wide range of activities, from traditional-based activities like hiking and swimming to more specialized programs like music or sports camps.
Consider your child's interests and choose a camp that offers activities they will enjoy and benefit from.
You should also look for a camp that balances structured activities with free time for exploration and socializing.
Considering Camp Duration and Cost
Finally, consider the length of the camp session and the cost. Some offer day programs, while others offer overnight or week-long sessions.
Longer sessions may be more expensive, but they also offer more opportunities for growth and development.
Be sure to factor in any additional costs, such as transportation or equipment rental.
By taking the time to understand your child's needs, researching camp accreditation and safety, considering the types of activities available, and weighing the duration and cost, you can choose the right Arizona Christian Camp for your child.
Preparing for Arizona Campsite
If you're planning to attend one of these camps, it's important to prepare ahead of time to ensure a smooth and enjoyable experience.
Here are some tips to help you prepare for your upcoming vacations:
What Do I Need to Bring to Camp?
It's important to pack appropriately for your time at camp. Here are some items you may want to consider bringing:
Clothing: Be sure to pack enough clothing for the duration of your stay, including comfortable and weather-appropriate options.
Toiletries: Don't forget essentials like toothbrushes, toothpaste, soap, shampoo, and sunscreen.
Bedding: Check with the campsite to see if bedding is provided, or if you need to bring your own sleeping bag or bedding.
Bible: As a Christian camp, it's likely that you'll be spending time studying the Bible, so be sure to bring your own copy.
What Rules Do Campers Need to Follow?
To ensure a safe and enjoyable experience for all campers, there are typically rules that all attendees must follow.
Here are some common rules you may encounter: Alcohol, tobacco, and drug use are strictly prohibited at Camps.
Campers must not bring any illegal substances, and must also refrain from consuming any of these substances while on the grounds.
Electronics: Many camps have a no-electronics policy, so be prepared to disconnect from technology during your stay.
Respect: All campers are expected to treat others with respect and kindness, regardless of differences in beliefs or backgrounds.
Make sure to check the camp's website for any additional items they may require you to bring.
Fun Things to do in Arizona?
Arizona is a beautiful state with plenty of outdoor activities and attractions that you can enjoy while attending a Christian camp.
Here are some fun things to do in Arizona:
Hiking
Arizona is known for its stunning landscapes and hiking trails.
One of the most popular hiking destinations is the Grand Canyon, which offers breathtaking views.
Other popular hiking trails include Camelback Mountain, Sedona's Red Rock State Park, and the Superstition Mountains.
Visit Museums
Arizona has a rich history and culture that is worth exploring.
You can visit the Heard Museum in Phoenix, which showcases Native American art and culture, or the Arizona-Sonora Desert Museum in Tucson, which features exhibits on desert wildlife and plants.
Attend Festivals
Arizona hosts many festivals throughout the year, including the Arizona Renaissance Festival, the Tucson Gem and Mineral Show, and the Arizona State Fair.
These festivals offer a fun and unique experience for campers to enjoy.
Phoenix is home to a wide variety of entertainment options, including the Arizona Science Center and the Phoenix Zoo.
Nearby Scottsdale is home to the iconic Camelback Mountain, as well as a variety of golf courses, shopping, and dining options.
Southwest of Phoenix, you can explore the caves and mines of the Superstition Mountains.
If you're looking for a more relaxing experience, the Verde Valley in Central Arizona offers hot springs and natural pools, as well as breathtaking views of the red rocks of Sedona.
Ready to explore a new part of the country? Check out https://www.faith3.org/summer-camp/ for a summer of fun, and spiritual growth.