Summer camps in Alaska offer a wide range of fun and adventure for all ages!
From outdoor activities such as hiking, fishing, and kayaking to indoor activities like arts and crafts, Bible study, and group games, there's something for everyone.
With over 60 Christian camps, visitors can explore the beauty of the Alaskan wilderness while deepening their faith in a supportive and encouraging environment.
Whether you're looking for a family vacation, team-building retreat, or solo adventure, you'll find it in Alaska's summer (and winter) camps!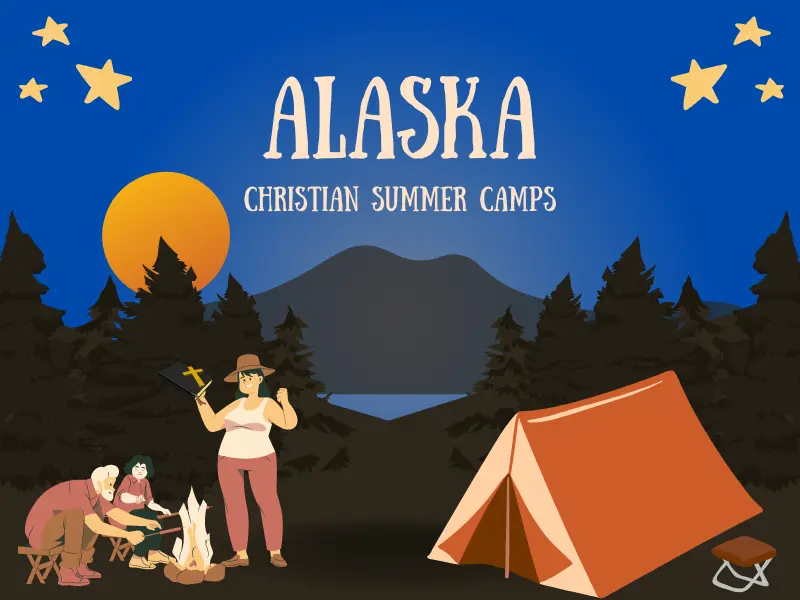 Overview of Christian Camps in Alaska
For those looking for a more religious camp experience, there are plenty of Christian summer camps in Alaska to choose from.
These camps offer faith-based activities like Bible study, prayer, and worship. Kids can also take part in traditional summer camp activities, such as swimming, canoeing, and hikes.
Most Christian camps are focused on teaching kids about faith and the Christian values of love, service, and respect.
At Alaska bible camps, kids can also learn about outdoor survival skills and explore the Alaskan wilderness.
Campers will learn how to build a fire, pitch a tent, and navigate the landscape with a compass. They will also learn the importance of conservation and stewardship of the land.
They provide a unique opportunity for kids to explore and grow in a safe and loving environment. The staff are all experienced and trained in both outdoor and faith-based activities, and they provide a safe, supportive atmosphere for kids to learn and grow.
Things To Do in Alaska in the Summer
Experience the beauty of Alaska in the summer with outdoor adventures, cultural experiences, wildlife encounters, and unique sightseeing opportunities!
Hiking trails are plentiful, allowing visitors to explore the majestic landscape while taking in stunning views of glaciers, mountains, and wildlife.
Drive through the Anton Anderson Memorial Tunnel to Whittier for a unique experience, or go ziplining at Icy Strait Point in Hoonah for a thrilling adventure.
Fly over the highest mountain in North America or take a hike under the midnight sun.
Whitewater rafting down Sixmile Creek and glamping on a remote island are also popular activities.
Wildlife encounters can be found all over Alaska, from bear viewing in Katmai National Park to exploring El Capitan Cave on Prince of Wales Island.
Unique sightseeing opportunities include riding the Alaska Railroad, cruising through the Inside Passage, and exploring an ice cave.
With so many exciting things to do, Alaska is the perfect summer destination!
With its breathtaking views and endless outdoor activities, Alaska is truly a summer paradise like no other – so much so that it's almost too good to be true!
Below I will look at the climate, terrain, facilities, and activities offered at each camp, as well as any other information that may be relevant.