Christian camps are places where people can enjoy the beauty of nature, learn more about God's word, and make new friends who share their faith.
They are especially popular in Florida, where the warm weather and the diverse landscape offer many opportunities for outdoor recreation and exploration.
Whether you are looking for a family vacation, a group retreat, or a summer adventure, there is a Christian camp in Florida that suits your needs.
In this article, we will introduce you to some of the best Christian camps in Florida and explain what makes them unique and appealing.
Best Christian Summer Camps in Florida
Florida is home to some of the best Christian summer camps in the nation, offering children of all ages a chance to experience faith-based activities and make lifelong memories.
From beachfront retreats to outdoor adventures, these camps combine faith-based activities with fun events and activities that create lasting impressions.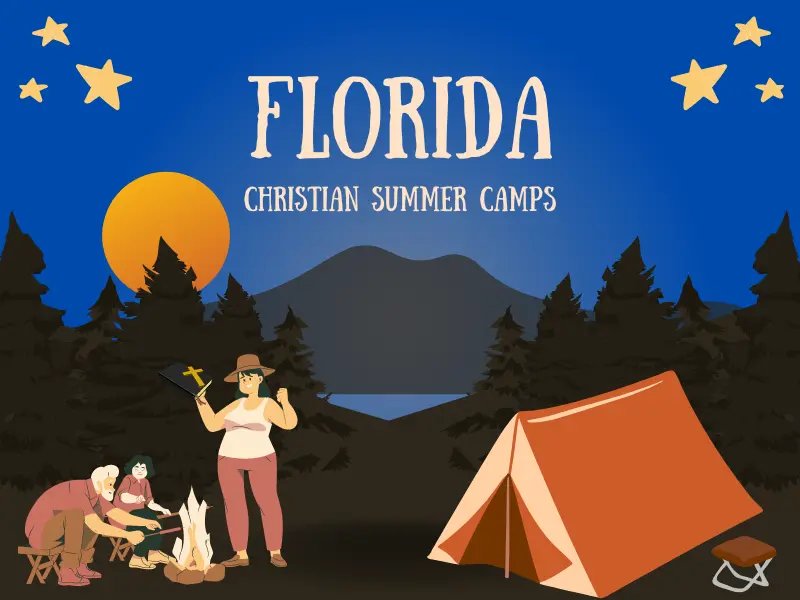 Here are my favorite bible camps that will provide a great opportunity to grow in faith and learn more about the Bible:
Central Florida Bible Camp ↗
23813 County Rd 44A, Eustis, FL 32736
North Florida Christian Camp↗
6779 Camp Rd, Keystone Heights, FL 32656
Life for Youth Camp Vero Beach↗
1416 82nd Ave, Vero Beach, FL 32966
Lake Aurora Christian Camp & Retreat Center↗
237 Golden Bough Road, Lake Wales, FL 33898
Weeki Wachee Christian Camp ↗
7360 Erin Rd, Spring Hill, FL 34607
Lake Placid Camp & Conference↗
2665 Placid View Dr, Lake Placid, FL 33852
Camp Kulaqua Retreat and Conference Center↗
23400 NW 212th Ave, High Springs, FL 32643
Realife Blue Springs Bible Camp ↗
2650a Lakeshore Dr, Marianna, FL 32446
Word of Life Florida↗
13247 Word of Life Dr, Hudson, FL 34669
Different Types of Bible Camps in Florida
There are different types of Christian camps in Florida, depending on your preferences and goals. Some of the common types are:
Retreat centers: These are places that offer facilities and services for groups or individuals who want to spend some time away from their daily routines and focus on their spiritual growth. They usually have conference rooms, lodging, dining, and recreational areas.
Youth camps: These are camps that are designed for children and teenagers who want to have fun, learn new skills, and grow in their faith. They usually have counselors, activities, games, and Bible studies.
Family camps: These are camps that are meant for families who want to spend quality time together, bond with other families, and enjoy God's creation. They usually have cabins, meals, programs, and family-friendly activities.
Overnight camps: These are camps that allow campers to stay overnight for one or more nights, usually in tents, cabins, or dorms. They offer a more immersive and adventurous experience, as well as opportunities for night activities, such as campfires, stargazing, or worship.
Summer camps: These are camps that operate during the summer months, usually from June to August. They offer a variety of programs and activities for different age groups and interests, such as sports, arts, music, or leadership.
Mission camps: These are camps that focus on mission trips and service projects. Campers typically travel to another location to engage in service projects and experience another culture.
Day camps: These are camps that operate during the day, usually from 9 a.m. to 5 p.m. They offer a variety of programs and activities, such as sports, arts, music, and more.
Adventure camps: These are camps that focus on outdoor activities, such as rock climbing, mountain biking, kayaking, caving, and more. They often involve an element of challenge and discovery, as well as spiritual lessons.
There are even more types of camps, such as those for music, leadership, sports, and the arts.
Advantages of Going to Florida Christian Camps
Florida Christian camps offer an incredible opportunity for campers to dive deeper into their faith and form meaningful connections with like-minded peers.
Through engaging activities, campers can build a sense of community, strengthen their relationship with Christ, and learn important values such as kindness and respect.
By participating in Christian summer camps, campers can also gain a better understanding of their faith and develop a sense of compassion and empathy for others.
Choosing the Right Bible Camp in Florida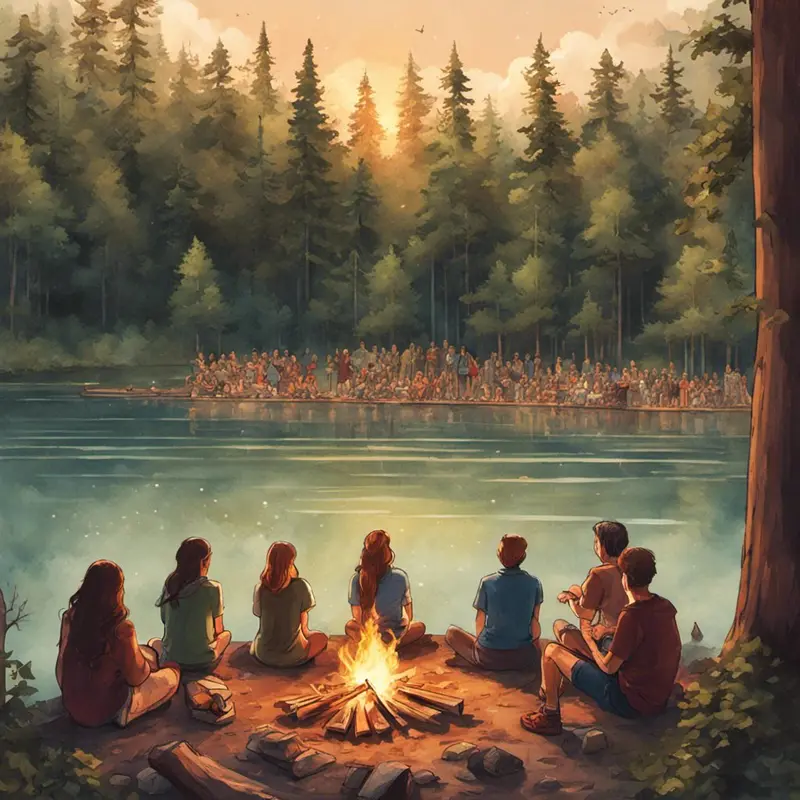 When choosing a Bible camp in Florida, it is important to consider the camp's location, activities, and cost.
Before selecting a camp, research the camp's location and its surrounding attractions.
The camp's location should be close enough for you to visit during the course of the camp, as well as provide easy access to nearby attractions and activities.
If the campsite is located in a rural area, make sure there are plenty of nearby recreation opportunities for the campers.
Finally, consider the cost of the camp. Compare the cost of the camp to other camps in the area. Make sure the cost of the camp is affordable and that the camp provides value for your money.
Research the camp's payment plan options and inquire about discounts or special rates for groups. Make sure to read the camp's policies and procedures before committing to a camp.
What Rules Do Campers Need to Follow?
It is important to remember that camping is a shared experience and that everyone should respect the rules and regulations of the campsite.
By following these rules, campers can ensure that everyone has an enjoyable experience and that the environment and wildlife are respected.
The most important rule for campers to follow is to be respectful of the environment. This includes not littering, not disturbing the local wildlife, and not damaging any plants or trees.
Campers should also be respectful of other campers in the area. This includes keeping noise to a minimum and not disturbing other campers.
You must be aware of the safety regulations in place at the campsite. This includes not leaving food or garbage unattended and understanding the rules around fire safety.
Lastly, you should follow the rules of the campsite. This includes not cutting down trees, not driving on the trails, and not camping in areas not designated for camping.
Unique Places to Visit in Florida
Are you ready to uncover the hidden treasures that Florida holds? Prepare to embark on a soul-stirring journey through the awe-inspiring beauty of the Sunshine State.
Beyond the glitz and glamour, lies a world of natural wonders and rich history waiting to be discovered.
From the gentle embrace of Crystal River to the tranquil shores of Anna Maria Island, Florida's hidden gems offer a liberating escape from the ordinary. Here's my selection:
Crystal River: Known for crystal-clear springs and abundant wildlife. Offers guided tours of the springs and the opportunity to swim with manatees. Nearby forests and nature trails for exploration. The historic downtown area with fish-to-fork cuisine.
Anna Maria Island: Has an old Florida vibe with a laid-back atmosphere. Features stunning, private island-like beaches. Offers fishing, kayaking, and swimming activities. The charming downtown area with boutique shops and galleries.
Naples: Offers the best of beach and city experiences. Has soft stretches of sand and luxury shopping. Beautiful parks and nature preserves. The historic downtown area with shops and restaurants. Iconic Naples Pier for sunset views over the Gulf.
Sanibel Island: Known for its pristine beaches and shelling opportunities. Offers a relaxing atmosphere with no high-rise buildings. Features biking and hiking trails to explore. Boating excursions and snorkeling are available. Quintessential Florida beauty.